The following facts have been noted in the week of 2-8 March: encouragement of violence -3; incitement of individual hatred -2; xenophobia - 3; unfounded statements regarding ethnic and sexual identity -2; religious discrimination -1; superstitions - 4; homophobia - 5; gender discrimination -1; anti-Western sentiments - 23.
Gogi Topadze, Georgian Dream: "Many countries have forbidden NGOs, blocked their bank accounts, where there receive funding from abroad. When you shake the ground off of your own state, your country, because you receive grants from abroad, you should be held responsible for that, of course. This needs to be forbidden, this is how Americans have overthrown many countries, this is how tragedies happened in Arab countries, in Iraq, Yugoslavia, Libya, Egypt, and now in Syria we witness the same, and they are destroying this country under the pretext of establishing democracy. Look at what they did to Gaddafi, he was raped, disassembled and thrown away into pieces.Mind you, Libya was one of the leading states before"...
Encouragement of violence
Asaval-Dasavali, 2-8 March
Giorgi Gigauri, journalist: "Unlike Kiev, they won't let the liberast militants rampage so easily in Tbilisi, and nobody will be surprised if people put that burning tires on the heads of the Nationals!"
Asaval-Dasavali, 2-8 March
Irakli Urumbegashvili, Helsinki Union: "...We should have shot Bokeria!... I regret so much we let him go!"
Obiektivi, Night Studio, 7 March
TV viewer: "The person who killed 18-year old girl, raped her and let dogs devour her, they should not just rape him in prison, they should kill him with a knife too."
Incitement of individual hatred
Asaval-Dasavali, 2-8 March
Kakha Targamadze, former Minister of Internal Affairs: "There has not been a bigger mouse than Saakashvili in the history of humanity! Rodent, glutton, pest, destroyer – he is all that."
Asaval-Dasavali, 2-8 March
Keti Dolidze, director: "They took him for treatment when he [Saakashvili] was a child, but he needs more treatment now, we know from history that there had been many maniacs in power. He also is a usual maniac, to be treated by psychiatrists".
Headline: Soso Manjavidze: "There is a plan to build five Arab villages in Mtsheta"
Soso Manjavidze, Sakrebulo member: "...We demand to regulate this issue by law, so that this does not continue in the future, otherwise we shall lose the country".
Giorgi Kordzadze, author: "We remind you who are other foreigners, who have spread in almost all branches of Ukranian government like metastases. Ministers: Georgian Kvitashvili, Lithuanian Abromavicus, US citizen Yaresko, an Armenian from Baku Avakov, Speaker of the Verkhovna Rada Groisman – a Jew; Our former countrymen have put themselves on serious positions: Ebanoidze, Shelia, Zghuladze and others.
This is happening when one of the main slogans of Maidan was: "foreigner, remember that the master here is Ukrainian!"
OmarKeshelashvili, Doctor of Economy, professor: "Allowing selling of land (territory) means losing nationality... When a foreigner takes over lands on the border, it is clear which country this land will join?"
Unfounded statements regardin ethnic and sexual identity
Asaval-Dasavali, 2-8 March
Arno Khidirbegishvili, Saqinform: "Armenian homosexual Zhvania"...
Asaval-Dasavali, 2-8 March
Irakli Urumbegashvili, Helsinki Union: "We know what he did during the time of Ter-Saakyan"...
Geworld.ge, 4 March
Mamuka Areshidze, expert: "We also have a problem regarding religions – they try to change religious ideology. A number of Muslim countries work on this, as well as religious groups based in Europe. This small Georgia withstands a lot...
Today people openly talk in the social network about ugliness of the results of work by the Western-financed NGOs. It is like several years ago: you remember how much support Jehovah's Witnesses had? The people understood this was not good."
Death of a 15-year old girl from potassium cyanide in Dusheti was connected to a Satanist ritual and sacrifice by a representative of the Reformers Party. The media reported on this issue on the basis of hearsay and in unbalanced way, by which, instead of clarifying the issue, they reaffirmed the superstition suggested by a political party. Despite the fact that journalists present the issue under a question mark, the version they do present is one-sided. The exception was Kviris Palitra ( for 3 March), where, along with this version, a priest's comment is presented, who considers it unacceptable claiming someone's membership in a sect because of their different physical appearance. Information from the MIA regarding investigation and the fact that the girl died of poisoning is also represented.
Imedi, Imedis Kvira, 6 March
Shalva Ramishvili, anchor: "Last week various media outlets reported existence of a Satanist sect in Dusheti... Is the death of the young people connected to any sect? Was it sacrifice of pares? The deceased reportedly were lovers."
Nino Charkviani, Reformers Party: "As to the death of these children, even before this girl's death we had been told that sacrifice of pairs is one of the rituals."
Maestro, 9 o'clock news, 2 და 3 March
Giorgi Khosrashvili, resident of Dusheti: "All this comes from this sect. I don't know if it is a sect, but I know for sure it is anti-religion and anti-Christian… Each day such sects get stronger. I believe society should fight against all this."
Unlike the 2 March story, in the story aired on 3 March there was no mentioning of "Satanist sect" and such. Now it was only about the causes of death – potassium cyanide and its availability.
Geworld.ge, 2 March, Pirweli, 3 March
"As [Nino] Charkviani says, the children have different habitus, skin color and tatoos."
Asaval-Dasavali, 2-8 March
Jemal Davlianidze, writer: "This team (Zhvania-Saakashvili) introduced the liberast attitudes to Georgia. Zviad [Gamsakurdia, the former President] often told us his friends – remember, the servants of devil fight against the Orthodox Christianity with the propaganda of sodomy and destruction of the institution of family".
Asaval-Dasavali, 2-8 March
Nana Tsintsadze, poet: "Why should people of non-traditional orientations sit in TV and have
the right to teach us, just because they are non-traditional?"
Vazha Otarashvili, Patriots Alliance: "Today Khazaradze is financing that Saba Award pederasts"...
Prime Time, 2 March
Archimandrite Antimoz: "I am not against the people with deviations. The deviations are like "do not commit adultery"...
Mamuka Areshidze, expert: "All televisions and programs work on conflict between sexes, on the same-sex people, the life of pseudo-beau monde, etc. This is an attempt to formulate tastes of the society… And, in the end, to corrupt the society ."
Netgazeti, Pirweli, 7 March, Interpressnews, Reportiori, 8 March
Statement of the Patriarchate: "Husband is the head of his wife, like Christ is the head of the Church".
Geworld.ge, 3 March
Gogi Topadze, Georgian Dream: "Let's say, miracle happened and NATO came in here, don't these politicians know that this will destroy our country? … Was not it NATO who committed what happened in Iraq? Also, Libya, Yugoslavia, you have seen what happened there."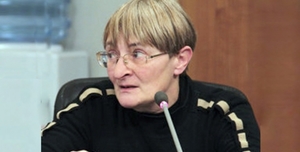 Nana Devdariani, former Public Defender: "Know, that by distributing candies [about Victoria Nuland's meeting with the protest rally participants in Ukraine], by supporting coup d'etat, they do it in the name of human rights and democracy, but when we see everything at last, we shall find getting rid of them very difficult ".
Asaval-Dasavali, 2-8 March
Valery Khaburdzania, former Minister of Security: "Is it not slavery that they look in the eyes of American ambassador and fulfill all his biddings at once? It seems that soon American ambassador will even beat our politicians with a whip!..
This will be a [NATO] training center, to which high-ranking officers will come, active recruiting will continue – stealing and perversion of minds."
Paul Craig Roberts – American economist: "The goal of Victoria Nuland's visit is to organize a coup in Armenia."
Asaval-Dasavali, 2-8 March
Elizbar Javelidze, People's Assembly: "Nemtsov was killed by his masters, in order blame Putin! The West could not manage to hurt Putin with economic sanctions, so now they have come up with this crime!"
Geworld.ge, 3 March
Headline: "Nemtsov's murder was organized by US and Ukraine and its goal was to launch the wave of protests in Russia" – Kote Kereselidze
Geworld.ge, 4 March
Mamuka Areshidze, expert: "Clearly, significant part of Georgian society is corrupt… They try to impose on us pseudo-values from the West… There are groups in the West, who, with the hands of NGOs, try to establish the ideology they need."
Geworld.ge, 6 March
Armaz Saneblidze: "These perfect [American] police officers kill innocent and unarmed people… Only last year American police officers killed 246 people in their country "...
Geworld.ge, 5 March
Giorgi Gachechiladze, author: "Many researchers and experts agree that the wars started during the last 100 years, which supporters of America call the conflict of cultural and religious mentalities in order to mislead the world society, were launched by American "civilization".
Alexander Chachia, political observer: "United States will find pretext to bomb any country which is trying to use its development and resources for the benefit of its population… The only salvation from these bandits are nuclear weapons."
Unfortunately, such bloodthirsty cannibals [McCain] and greedy corporations behind them rule America."
Giorgi Kordzadze, author: "America could not scare the Soviet Union, but they murdered 300 thousand innocent people"...
Paul Craig Roberts, economic and political observer: "If Washington manages to stage a coup in Armenia like in Ukraine, then next step will be attack on Armenian family, legitimation of homosexuality, liberation of children from the parents' control, review of relations between parents and children."
Asaval-Dasavali, 2-8 March
Levan Pirveli, businessman: "The more Saakashvili is in debt to America, the more firmly is he a slave. So, don't expect truth from America!"
Asaval-Dasavali, 2-8 March, Saqinform, 2 March
Arno Khidirbegishvili, Saqinform: Devaluation of Georgian lari has single real reason – Western economic sanctions against Russia, by this the West has damaged Georgia!"
Nikoloz Mzhavanadze, Chairman of the Rights Defenders Union:There is certain pressure from the West on the government for the legal processes not to reach the level which we are demanding.
Asaval-Dasavali, 2-8 March
Dito Chubinidze, journalist:In this tragic ceremony Europe and America have always played and still are playing the role of an honest gravedigger!.. The national disaster which developed in Kiev around the huge pole of the "independence monument", on the Euromaidan, was led by specific whores. Among them were Ukrainians, Europeans and Americans...
Obiektivi, Night Studio, 8 March
Hamlet Chipashvili, political observer: "So by the hand of Americans there is an ongoing reanimation of fascism...
Hamlet Chipashvili, political observer: Wherever United States stepped in, everything was destroyed there, even grass is not growing, right?
Obiektivi, Night Studio, 8 March
Valery Kvaratskhelia, anchor: What does brainwashing mean? They skillfully promote certain values, like LGBT, like gender, is it not a problem in Georgia...
Valery Kvaratskhelia, anchor: Brainwashing, showing black as white and white as black to a person, this is American art, which they use...
Obiektivi, Night Studio, 8 March
TV viewer: "These fascist forces, West and America, if our government changes direction towards Russia, of course they will stage a Maidan here"...
TV viewer: ...In the 5th grade we were crying because of Uncle Tom's Cabin, and now this country is teaching us about what anti-democratic law means? As to the language, this is the language of Englishmen, the rascals… They don't even have their own language, these people are born of various nations, the descendents of the first European colonizers.
Obiektivi, Night Studio, 7 March
TV viewer: "We don't want NATO, or America, or European Union."
TV viewer: "Is America damaging less? What they did in Iraq, in Syria… what they did in other countries. "
TV viewer: "You are saying that Russia is aninvader, we know it is, of course it is invader. At the same time, Europe and American have invaded us morally, did not they?"
The newsletter was made possible by generous support of the American people rendered through the USA Agency for International Development (USAID).
The contents of the newsletter are responsibility of the Media Development Foundation (MDF) and do not necessarily reflect the views of the USAID and USA.