The following facts have been noted in the week of 16-22 February: hate speech -3, calls for violence -2, religious discrimination -2; religious stereotypes -1; xenophobia -3; Turkophobia -1;homophobia -11;gender stereotypes -4; anti-Western sentiments -21.
Imedi, Qronika, 18 February
"Not everyone is happy with the large-scale reform... For example, the Agency of Tourism is not happy...When this reform [immigration] in that sphere was enacted on 1 September, this caused the fall in the number of tourists by 42 000 during the last four months of 2014: of the Chinese, Iraqis, Iranians and Egyptians…We restrained this and we had a success in Brussels, and we expect some kind of success at the Riga summit… Then we can have a framework for control and let in those who are well-wishers of our country, tourists, or, what is most important, investors"
Elizbar Javelidze, People's Assembly: "The Nationals are not people, but devils, none of them is born out of mother's belly… A person is different from an animal because of his morality, and the Nationals are not any different from animals...
Saakashvili does not care about being Armenian or Georgian, he has always said he stands above ethnicity. Animal does not care about ethnicity".
Asaval-Dasavali, 16-22 February
Lali Moroshkina, PR specialist: "The Nationals behave like animals such as rats! When they saw a trap, the rodents had the self-destruction program launched and they are ready to lead all of Georgia to the disaster...
The statement by the National prosecutor was just like a scream of a dying reptile."
Asaval-Dasavali, 16-22 February
Irakli Kandareuli, colonel: "Bandera's followers are just like fascists. They tortured people by putting nails into their eyes and killed them. Now they are spilling blood in Ukraine again".
Asaval-Dasavali, 16-22 February
Omar Nishnianidze, Georgian Dream: "Another several Nationals will be beaten up in the Parliament."
Soso Robakidze, father of Buta Robakidze: "The leaders which decide to let Saakashvili back, at least several of them, I will kill myself, because Saakashvili committed genocide of Georgians!"
Kviris Chronika, 16-22 February
Basil Mkalavishvili, Church leader: "The blood-spilling Saakashvili registered this sect [Jehovah's Witnesses] as soon as he came to power. This helped Bokeria, for it was him who used this sect as a weapon for his insidious actions, in order to destroy ancient traditions and 20 centuries of religion in Georgia. They had this task from US, specifically from Soros"...
Kavkasia, Spektri, 17 February
David Akubardia, anchor: "By the way, the Sunnis have this proclivity to cut throats...
Gigla Baramidze, Burjanadze-United Opposition: Though there is nothing like this in the Quran.
David Akubardia, anchor: They use this Quran in any way they need".
Kviris Palitra, 16 February
Vladimer Tabaghia, lawyer, former head of prisons and colonies: "I had worked in the penitentiary system for 40 years and never saw a Georgian torturer. They were only Ossetians and Russians .."
Alia, 20 February
Theodore Gignadze, deacon: "To sell land and children to foreigners like this is treason."
Imedi, Imedis Kvira, 22 February
Murman Dumbadze, MP: "This is incorrect, stupid answer [by the former Foreign Minister Maia Panjikidze]: "Adjarans are Georgians too and mosque should be built in Batumi"...
I told him [Bidzina Ivanishvili]: This is why a mosque cannot be built in Batumi – because a Georgian government delegation must not begin to talk about the mosque as soon as they come back from Turkey."
Asaval-Dasavali, 16-22 February
Rezo Amashukeli, poet: "That chicken Giorgi Gabunia sometimes reminds me of Boris Moiseev, who "coughs" most of all in the former USSR [meaning homosexual identity]… By the way, Nika Gvaramia also definitely and loudly "coughs"...
A talented actor and good Georgian like Misha Gomiashvili cannot like the LGBT society. Remember that besides the filthy liberasts, there is also the Georgian people with its sacred traditions and morality."
Asaval-Dasavali, 16-22 February
Marina Molodini, friend of Zurab Zhvania: "The filth spread by Rustavi 2 [the part of the experts' report pointing at the homosexual relationship between Zhvania and Usupov] has destroyed every family member and friend of Zurab, and all honorable people."
Kviris Chronika, 16-22 February
Gela Zedelashvili, journalist: "A transsexual tells me about morality on TV, and a real moralist is starving...
What for does Kutaisi need flowers and your pederast embraces?"
Lado Sadghobelashvili, Free Generation: "It has been about 10 days already that information is leaking from Rustavi 2 about the deceased Zurab Zhvania being a sodomite ".....
Alia, 18 February
Gogla Zhvania, Georgian Dream: "This [homosexuality of Zurab Zhvania] would be a disaster for our family, but there was no such thing".
Alia, 20 February
Iverioni: "Father Theodore, the so called surrogacy has reached massive scale in Georgia. And they give such babies born as a result of this to the foreign same-sex couples. Why is the Church silent on this issue and does not react?
Deacon Theodore Gignadze: I think, surrogacy andgiving the children born of it to the same-sex couples is a crime, which is allowed only in 3 or 4 European countries, and Georgians decided to be like them in this filth?!"
Geworld.ge, 18 February
Eka Naskidashvili, journalist: "Why did they kill Zhvania? If he had a sexual deviation, as his teammate Nationals say, would this be the cause for murder?..
"What is greater shame – that the Prime Minister has a different sexual orientation, or that the Prime Minister gets murdered?"
Elizbar Javelidze, People's Assembly: "What I call pederasty is a great immorality, but you cannot kill a man because of it."
Headline: "Zorro and the Pederasts*"
Bakur Svanidze, author: "If a French outlet had a right to picture religious fathers in the homosexual pornographic positions, why cannot we call the people who like such positions what they are?..
And again I wished to cut a thin tree branch that can be waved easily, wound a wire around it, and then draw letter Z with it on the asses of these pederasts!
Alain Delon, actor: "I have bad relations with our epoch, which establishes everything innatural as a norm of life. They can call me an old fool, but I will still say that homosexuality is not a norm! And, if this is a norm, the such a norm shocks me!"
Asaval-Dasavali, 16-22 February
Rezo Amashukeli, poet: "It does not characterize a man to involve his family in business and for the women to start chattering."
Kviris Chronika, 16-22 February
Elizbar Diakonidze, deacon: "The only thing that happens on TV is that the law-quality whores try to present themselves as the high-quality whores"...
I was watching these days, they showed a 22 year-old boy, who had been stealing money since childhood and said he had been a man then, and now he was a woman".
Vladimer Tabaghia, lawyer, former head of prisons and colonies: "There also were women on death row, mostly for murders. Women commit more cruel crimes than men… What a woman can think of, a man is not capable to think of."
A resident of Kakheti: "He was a husband, so how was that sexual violence?"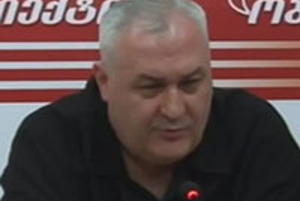 Obiektivi, Night Studio, 17 February
David Tarkhan-Mouravi, Patriots Alliance: "We must see that Obama administration is not trying to stop conflicts anywhere. It makes all conflicts protracted. This causes more money and enrichment at the same time. Nobody cares that people die and states are destabilized."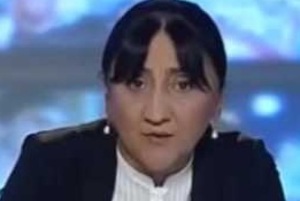 Irma Inashvili, Patriots Alliance: "This statement by European and American politicians [address by the European and American politicians to the Interpol asking it not to declare former president Saakashvili wanted] is, on the one hand, insulting for the Georgian people, and on the other hand constitutes meddling in the country's internal affairs."
Obiektivi, Night Studio, 18 February
Londer Tsaava, former Chairman of the Government of Abkhazia: "They have orchestrated the Revolution of Roses from beyond the ocean once, they also orchestrated the Orange Revolution, which was quickly changed by the Russian influence… hat is why they did all this again. That was followed by the resignation of Yanukovich, by the Maidan, and so forth".
Asaval-Dasavali, 16-22 February
Rezo Amashukeli, poet: "If the USA is the main friend of Georgia, then why did it put the gang that had destroyed Georgia into the government of Ukraine?! "
Asaval-Dasavali, 16-22 February
Rezo Amashukeli, poet: "I saw Eka Gigauri some time ago, on the right of whom sat Norland, and on the left – David Usupashvili… I wonder, why are American partners the people who are the enemies of everything Georgian..
They have decided in America to appoint special ambassadors to the states where, as they think, representatives of LGBT have problems, even without consent of the Congress... One of them they will definitely attach to Rustavi 2, because they have the great "coughing" there... Alas, the state that had always been noted for its tolerance and morality, now sends us ambassadors who defend asses with guns in their hands!"
Kviris Chronika, 16-22 February
Nino Samkharadze, journalist: The West has imposed death on Poroshenko, in the person of Mikheil Saakashvili… If Poroshenko disappoints the West, his liquidation will not be a problem and by this time they will prepare Saakashvili for the presidency of Ukraine.
Bakur Svanidze, author: "Europe cannot let go of these "if"-s since almost 15th century, and as a prerequisite to our integration into Europe they demand from us adoption of Catholicism, or eating khinkali with forks, or having gay parades...
Tamar Davituliani, author: "Which time is that USA and NATO scold us, so that we don't touch their "sons of bitches", and Irakli Alasania is trying to become their "son of a bitch" more than Saakashvili, that is why he attacks pro-Russian vector."
Arni Khidirbegishvili, Editor-in-chief: "That was an act by a noble Russian king [Putin's reaction to the Georgian journalists' questions in Minsk]… and, at the same time, his compassion for his stray children – the journalists who are forced to serve American interests against their own country for dollars!...
Kavkasia, Spektri, 17 February
David Akubardia, anchor: Do not send him to America, please! We do not want anyone sent to America...
.
Jaba Zhvania, author: "Along with the EU Association Agreement there continues brainwashing of the society with the pseudo-liberal Western ideology. Creation of the new breed of a Georgian is being quickly done, and the "deep reforms" of the National regime will soon come to their logical conclusion.
Manana Nikoleishvili, Education League:"...We are talking about breeding a person with totally new ideology, for which traditions and national identity will not have any value.
David Mkheidze, author: "Regarding the last 25 years, at least Russia does not tell us that we must marry a cousin, and male too! Unlike the "Alasanias" president Barrack Hussein Obama, who has just now said in the Congress: "I consider legalization of the same-sex marriages the main achievement of my presidency!""
Geworld.ge, 19 February
Giorgi Gachechiladze, author: "USA either finances these wars, or launches them in the first, in order to overthrow this or that government they do not like, and to take over the country's riches...
Alexander Chachia, political observer from Moscow: "During the last decade, America has become the main force for the destabilization in the world, and American army – the very well-armed gang of murderers and butchers.The only salvation from these bandits is nuclear weapons"...
Geworld.ge, Reportiori, 17 February
(Der Freitag): "Ukraine is the model project for USA and EU, which is an illustration of our Western values: look, what is doing the oligarch President, who has sent regular army and fascist-like marauding battalions to attack his own population; the Prime Minister, who is working for America and a boxer, who has become the Mayor of Kiev.
Geworld.ge, 18 February
Conflittiestrategie.it: "They are already playing with open cards in Ukraine. It is difficult to deny that that this country has actually been conquered, but not by Russia, as the Western propaganda presents it, but by the North American conquerors!
Obiektivi, Night Studio, 18 February
TV viewer: "There is a holy father on the Athon mountain, they call him Yanis… He said, you are in the service of America, my son, Ukraine has been overtaken by the evil force, and let us pray for God to have mercy for the boys that got killed in this dirty war. He was talking about Christians.
...[Satanovsky] told us, we won't have a lot of time left, if NATO opens its bases here, which will be the last nail in the destruction of Georgia."
Obiektivi, Night Studio, 21 February
TV viewer: Neither America, nor Europe want Georgia to become an industrial country.
Maka Razmadze, anchor: Yes, unfortunately this sounds like truth!
Obiektivi, Night Studio, 20 February
TV viewer: "What happened in Ukraine, it was done by the fascists…
And what happened in Georgia in 91-92, the same scenario was used by America in Ukraine… Ukraine has been destroyed by America, my dear"...
TV viewer: Let us look after ourselves, we don't need America, we don't need anyone, let the national forces come to power...

The newsletter was made possible by generous support of the American people rendered through the USA Agency for International Development (USAID).

The contents of the newsletter are responsibility of the Media Development Foundation (MDF) and do not necessarily reflect the views of the USAID and USA.