The following facts have been noted in the period of 2-8 February: hate speech towards transsexuals (1); calls for violence (3); religious discrimination (2); xenophobia (7); Armenophobia (1); homophobia (7); gender stereotypes (1); discrimination of people with disabilities (1); anti-Western sentiments (23).
Prime Time, 2 February
Dato Katsarava, actor: "They has let these nonentities [transsexuals] become too bold. This is the cancer and problem of the modern society… They have a right to do everything, so they act like regulars but with sick souls"...
Maestro, 9-o'clock news, 5 February
Omar Nishnianidze, Georgian Dream: "I will miss the Parliament not just for 30 days, but forever, so that we can break their faces, if we need to."
Asaval-Dasavali, 2-8 February
Rezo Amashukeli, poet: "... I should have break your [to Gia Getsadze] heads, by now I would have been out already "...
Asaval-Dasavali, 2-8 February
Dito Chubinidze, journalist: "Zaza Gabedava… is saying that he and his
friends made a huge mistake in the past, when they did not shoot Giga Bokeria!
Roman Dumbadze, Iberian-Caucasian Movement: "One of our comrades, Sandro, was going to shoot Giga Bokeria, and he would have shot him, but Irakli Urumbegashvili saved that bastard, that despicable Jehovah's Witness and traitor of the Georgian nation!"
Asaval-Dasavali, 2-8 February
Zaza Davitaia, journalist: "There is an upsurge of mosque construction in Georgia. And some dispute our ownership of dozens of churches...
Mirian Phaliani, priest: ... But they must not desire to build their religious building in uncontrolled numbers and make us Orthodox Christians a minority. They should know they are not above us! "
Irakli Machavariani, former civil servant under Administration of President Shevardnadze: "The more of those Georgian citizens that go [to Syria] do not come back...
I never denied that I would prefer our country to be consolidated not just nationally, but also religiously "...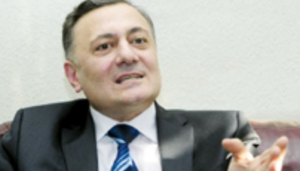 Public Broadcaster, First Studio, 6 February
Shalva Natelashvili, Labor Party: "...When internal occupier sells our land legally to a Pakistani, Iranian or South African, nothing can remedy these result, this occupation is forever. "
Asaval-Dasavali, 2-8 February
Elizbar Javelidze, People's Assembly: "Imagine how horrible it will be after the Parliament of Georgia adopts this law: and Indian land owner will sell 1 Ha in his homeland and by 400 Ha in Georgia for the same price."
Rezonansi, 7 February
Mamuka Areshidze, expert: "In Adjara a person of another tribe feels more comfortable than a citizen of Georgia. People from Adjara are fighting in Syria and Iraq. In Kvemo Kartli there is a fight between representatives of various states to cloud people's minds and religious fundamentalists are very active there."
Rezonansi, 3 February
Irakli Petriashvili, trade unions: "The Chinese are building a city, could not Georgians prepare concrete there, or pave the roads?"
Obiektivi, Night Studio, 5 February
Nino Gugeshashvili, journalist: "People, I am addressing all of Georgia. We are closing to a genocide. here is a total genocide of the Georgian people...
I condemn the fact that Chinese live here, Indians live here, must it always be like this?"...
Asaval-Dasavali, 2-8 February
Giorgi Gigauri, journalist: "You should worry about making production of Georgian agricultural products profitable, and how to protect the Georgian market from the cheap foreign garbage, which is entering the country like a stream!..
All this has an anti-Georgian liberasts smell!"
Jaba Zhvania, author: "Two parties – the Nationals and the Republicans, and the NGO 5th column with them - have done everything for the foreigners to own Georgian land. Unfortunately they have reached this goal."
Alia, 3 February
The article concerns the 23 July 2014 resolution of the UN Human Rights Committee which, according to the newspaper, was based on the report by a representative of the Georgian diocese of the Armenian Apostolic Holy Church Levon Isakhanyan.
Paata Tsnobiladze, PhD of International Law: "On the basis of this resolution… the Georgian diocese of the Armenian Apostolic Holy Church addressed the Georgian government, claiming the 442 churches and monasteries taken from the Armenian Church during the totalitarian regime... Defending your country's national interests, your own rights, is not inciting hatred... It seems, we are losing the country not through war but without it, and this is supported by the irresponsible officials."
Asaval-Dasavali, 2-8 February
Dito Chubinidze, journalist: "As soon as some pederast stumbles, Identoba leader Irakli Vacharadze is in a TV studio immediately, cursing like a woman kicked out of the family ".
Asaval-Dasavali, 2-8 February
Dito Chubinidze, journalist: "Kharshiladze is obviously hinting that he encountered the view of immoral relations between Zhvania and Usupov in that room!
Lali ANtia, former prisoner: ...Can anything be believed of what these pederasts say?"
Asaval-Dasavali, 2-8 February
Giorgi Gigauri, journalist: "The Dream MP, Republicans-minded liberast Tamar Kordzaia, has betterd even herself! ..
Because this Tamar Kordzaia, before she became an MP, was proudly proclaiming support for the legalization of the same-sex marriages in Georgia, and claiming herself to be the sword-wielding protector of the sexual minorities!"..
David Mkheidze, author: "The pricks like Carl Bildt, financed by the pederasts, protect everyone and everything in Georgia, from LGBT-pederasts to stray dogs!"
Kviris Chronika, 2-8 February
David Katsarava, actor: "Just a regular sodomite… you are doing too much you LGBTs, and you better sit back on your asses!! (newposts.ge)
Headline: "Georgian gay Iko is forcing men to provide sex by telephone services."
Prime Time, 2 February
David Katsarava, actor: "They name Kesaria [transgender] Abramidze as the etalon of beauty. Come on! Don't we have beautiful women in Georgia anymore? What an insult this is for women and men, for everyone."
Discrimination of people with disabilities
Obiektivi, Night Studio, 5 February
Nino Gugeshashvili, journalist: "A girl whose state is normal physically and morally, will probably not marry a physically or mentally disabled person."
Saqinform, Kviris Chronika, 2 February
Nino Burjanadze, United Democratic Movement: "If we are ready to give up Abkhazia and Samachablo for a NATO base, let's say this loudly".
Alia, Reportiori, 4 February
Goga Khaindrava, director: "If you think that Irakli Gharibashvili or Bidzina Ivanishvili inventer the words "cohabitation", you are very wrong. The Georgian government was ordered by very important international powers, and the US administration told them directly – do not touch the Nationals, or we shall break your hands, kill you with hunger, you won't be able to enter Europe or do anything".
Alia, 5 February
Rezo Amashukeli, poet: "I am addressing you, Mr Norland, you don't have history and morality, remember, how you created your state? And name a country were you entered and did not make lakes of blood? Why don't you leave us alone?.. They must choose, either these murderers or the Georgian people, but Americans don't give a damn about Ukraine or Georgia!"
Asaval-Dasavali, 2-8 February
Rezo Amashukeli, poet: "As to the solution, if Georgia does not free itself from the America's slavery, Georgia cannot be helped! "
Prime Time, 2 February
Emzar Kvitsiani, person prosecuted for mutiny: "I remember when Shevardnadze told me that Americans were demanding from us to give up the [Kodori] gorge. That's why I was saying during the resistance that I took the mask off the Americans"...
Arno Khidirbegishvili, editor of Saqinform: "They [Americans] have imposed on Georgia the "open society", "transparent society" and "liberty institute", which were always telling us":"Don't be shy of your sin and don't hide your private parts, like Eve and Adam, eve if you are an LGBT or a whore! Be open, transparent and free – just like you want! You are Georgian, and thus – European, so incest and same-sex marriage is a usual thing for you! Believe not in Christ, but in yourself, be libertarian, not God's slave! You are not like the mass, you are elite minority, your rights equality is guarded by the anti-discrimination law, and you should be proud of your non-traditional individuality!"
Yuri Mechitov, photographer: "The main player here is America, which orders all this… They don't hide they have put 5 billion dollars for this coup d'état in Ukraine, which destroyed Ukraine and is still destroying it.
Asaval-Dasavali, 2-8 February
Elizbar Javelidze, People's Assembly: "Just like they pushed us to take out the ethnic identity from the ID card, and by this won some points in the eyes of the European pseudo-liberal forces, now they hurry for the Parliament to adopt the disastrous law of the Georgian lands to be sold to foreigners. That is why I do not believe in the "Western democracy"...
Asaval-Dasavali, 2-8 February
Dito Chubinidze, journalist: "We don't know, and it should be researched, what do foreign sponsors pay money for in Georgia – for gay parades on Rustaveli, or for the elections rigged by Machavariani and Gogorishvili, like they did it many times, to be blessed by GYLA?"
Kviris Chronika, 2-8 February
Giorgi Jikiashvili, journalist: "The de facto ruler of Georgia Norland made a comment in response, saying that organizations: GYLA and Fair Elections are the main allies of the US."
Tamar Kiknadze, political observer: "It's a fairy tale that Georgia can win anything on the European market that is full with goods. The West's main mission for Georgia is to fight against Russia, that is what they need Georgia for."
Anzor Maisuradze, Major-general: "Why did we cause such trouble to ourselves [Russo-Georgian War]? Because US wanted to compromise Russia, using Georgia...
US ambassador says – they [NGOs] are our "important partners", I think this means admitting that, first, they are financed by the US intelligence agencies…
The Arabs have dominated Georgia for 400 years. They could not demolished us. For 200 years the Mongols ruled, and they could not change our identity to Mongolians. For 200 years we were a Russian gubernia, and we still kept our nationality. So the Americans work in vain during these 20 years."
David Mkheidze, author: "While previously political maps were fashionable, now look in the Internet and see the LGBT-pederast map: all South and North America is in the gay colors, as well as Western Europe."
David Mkheidze, author: "NGO's are the Western neoliberal forces' 5th column in Georgia, and thus the support base of Saakashvili regime! So, we must know who pays money to these guys and, just like in Russia, here too their "rights defending" ravages must be stopped..."
Tamar Davituliani, author: "So, Americans don't care in what kind of danger Georgia will be as a state, and whether to Abkhazia and South Ossetia will be added one or more rebellious regions, the main thing is just for the NATO to move forward"...
The Ukrainian example is enough, where the coup d'etat was openly supported by them, and now they directly appoint members of government, including the son of a bitch Nationals"...
Bakur Svanidze, author: "So putting one's head into Uncle Sam's ass is "free speech"...
We have been slaves of the American "political planters" for a long time, including our government and NGOs, clearly..."
Jaba Zhvania, author: "This is our fault too – on 27 June 2014, when we signed that immoral Associated Agreement with the EU we should have gone out and cried out loudly that this is not our historical choice...
In 2-3 years there will be no Georgians on Georgian land."
Obiektivi, Night Studio, 8 February
TV viewer: "Is it not an annexation that America is going to place its base here, this is already happening, so is this not an annexation?.. America does not want to bring Georgia into NATO. They just want to use Georgia against Russia in a military aggression, just like Ukraine. "
Valery Kvaratskhelia, anchor: "So, Gaddafi's tragedyis not a single and accidental act. This is one of the American methods in various regions and states."
Obiektivi, Night Studio, 6 February
TV viewer: "So, this democracy, which you love so much [addressing the program anchor Irakli Managadze], is it upheld towards the aborigines in America? You know well that it is not, right? Why are you lying to people?"
TV viewer: "America is not a democratic country. In the 1970s they were persecuting the aborigines with helicopters, killing them. In the 1970s, when there were rallies, they shot people in the street."
The newsletter was made possible by generous support of the American people rendered through the USA Agency for International Development (USAID).
The contents of the newsletter are responsibility of the Media Development Foundation (MDF) and do not necessarily reflect the views of the USAID and USA.