The following facts have been noted in the period of 19-25 January: hate speech – 2; calls for violence – 2; justification of violence -2; statements regarding insulting religious feelings – 7; religious discrimination – 4; unfounded statements regarding religious motives while reporting on crimes - 5; putting the issue of the Armenian religious buildings in the negative context – 3; xenophobia – 2; Turkophobia – 6; Armenophobia – 1; unfounded statements regarding ethnic identity – 1; homophobia – 7; anti-Western sentiments -11.
Asaval-Dasavali, 19-25 January
Dimitri Chubinidze, journalist: "After this brigadier of hens and pederasts Irakli Vacharadze made a statement about nuns, if someone makes him answer for it, will he be a "terrorist"?
Zaal Kasrelishvili, Caucasian Peoples Confederation: "The tolerance of Christianity and
Orthodox religion is expressed in the fact that a creature like Vacharadze is still alive...
What he said about Georgian nuns, if he said this about the Muslim sisters, I assure you, they would exterminate with several kilograms of TNT in a single day not just Vacharadze and his family, but everyone around him and all his associates!"
Obiektivi, Night Studio, 21 January
Rezo Amashukeli, poet: "The foremost crime is that they did not exterminate them [the Nationals] in the first day… All this should had been over on 2 October [2012], but the US won't let them do this."
Asaval-Dasavali, 19-25 January
Elizbar Diakonidze, deacon: "Wherever I see that Vacharadze, I will break his nose and mouth personally. I warn him, if he sees me, he should move to another side of the street and beware not to meet me!.. This will be an example for others, that all those who ridicule the Patriarchate and His Holiness get punished. If we the Georgians do not do this, then nothing can save us."
Obiektivi, Night Studio, 23 January
Dito Chubinidze, journalist: "If anyone deserves liquidation and destruction, it is that rascal… sodomite Mamuka Kvedeliani"....
Justification of violence
Levan Duishvili, rally participant: "The Charlie Hebdo journalists, or rather provocateurs, and all those who insult religion, got what they deserved. Both Christians and Muslims warned them that they cannot do this"..
Public Broadcaster, Moambe, 19 January
Ashur Khangoshvili, resident of Pankisi: I think, the murderers are that editor and his employees (Charlie Hebdo), and since they later did that again, they want to become murderers again.
Imedi, Imedis Kvira, 25 January
Naniko Khazaradze, anchor: "I am against any satire on religious topics. Religions is a very delicate thing, which must not be ridiculed, drawn pictures about all the time. Especially when there is a legal case ."
Asaval-Dasavali, 19-25 January
Nikoloz Mzhavanadze, The Rights Defenders' Union: "Vacharadze and his associates are the sectarians, who insult our traditions and religion"...
Asaval-Dasavali, 19-25 January
Elizbar Javelidze, People's Assembly: "I wonder, why doesn't the French Charlie draw cartoons insulting Jews? Why did not they ridicule Abraham, or someone else? But this is done on purpose, because Islamic states are based on Islamic traditions, just like Georgia is based on Orthodox Christianity! If they take from us the basis of our life – the Orthodox Christianity – we shall be like cattle, which I think they have already turned us into!"
Iakob Lezhava, author: "For some reason only Christianity and Islam, Mohammed, Quran, Christ, Saint Mary and the Holy Trinity are being ridiculed, and never Judaism, Jehovah, Moses and Torah… For many years they have been attacking with totally unacceptable methods not just Islam,
but even more so Christianity. Who is doing this? The European media, first of all French magazine Charlie Hebdo."
Asaval-Dasavali, 19-25 January
Tamaz-Ahmed Chaghalidze, fighter in Syria: "When you insult our religion, you will get punished, sooner or later. Continue like this, and you will lose Adjara, and we shall create our Islamic Adjara. Adjara will join the Caliphate."
Tamaz-Ahmed Chaghalidze, fighter in Syria: "In Batumi, the old and the new muftis will have to answer for not constructing the second mosque, just like those who hindered construction of the mosque, lead by Ivanishvili, Gharibashvili and the Adjaran diocese".
Obiektivi, Night Studio, 25 January
Arno Khidirbegishvili, Saqinform Editor-in-chief: "These people from Pankisi will come here again. Then we shall see, if they will be Charlies, and to which part will they have croissants stuck?"
Elizbar Diakonidze, deacon: "The Muslims plan to build a mosque in Belarus… I wonder, what is the matter with the Christians and the world, so that they pursue cartoons and don't pay attention to the strengthening of the Muslims."
Asaval-Dasavali, 19-25 January
Dito Chubinidze, journalist: "The servants of darkness and secret or obvious agents of the Jehovah's Witnesses have been defeated in the ideological battle and the debate with us, so now they want to destroy us with courts and financial sanctions!"
Geworld.ge, 22 January
Jaba Zhvania, author: "All kinds of weed flourish in this dysfunctional country – the Turks have started creeping religious expansion in Adjara, Armenians have begun to take over Georgian historical monuments, Azerbaijan has voiced claims to our territories."
Kviris Palitra, 22 January
Lia Tskhomelidze, neighbor of the deceased person: "He had his soul sold to the Satan… The woman really went to some sect, always talked about fortune-tellers and curses, and they made her finally crazy..."
Unfounded claims about religious motives while reporting on a crime
Arrest of the Iranian citizen, suspected for murder of a resident of Batumi Mariam Kochaladze in 2013, was reported on in the unbalanced way by certain media outlets. Specifically, the 9-o'clock news on Maestro TV, Rezonansi newspaper, Interpressnews and Pirweli news agencies spoke about the religious motives for the crime, on the basis of the comment by the victim's parent (sacrifice of a Christian during the Ramadan). The official version of the investigation regarding the motive was not represented. This one-sided reporting misguided the audience and supported rise of intolerance towards the Muslims.
Maestro TV, 9-o'clock news, 20 January
Zhuzhuna Beridze, mother of Mariam Kochaladze: "He [the murder suspect] took her cross, he cut it out and left the rope, so that I and everyone else could see that this had religious motive. How did he select these, before the sunset, at 18:30, on 22 June, on the 15th day of the Ramadan.. He must confess who tasked him and why he destroyed my [child], who ordered him to come?!"
Obiektivi, Night Studio, 19 January
Goga Elibego, Global Brinji: "He [Valery Permyakov] is one of those called the Pentecostals, that sect… Somehow there is the expert's conclusion already that
on 12 January, when he committed that crime, this is somehow connected to this sect, that day specifically, there is something behind that."
The issue of Armenian religious buildings in the discriminatory context
Alia, 21 January
Giorgi Andriadze, former parliamentary secretary of the Patriarchate: "When the Russian Empire came to the South Caucasus it settled very large Armenian diaspora… Armenian churches were actually built during the period of Russian occupation, but the question is – if that occupation was justified, then the return of these churches is also justified?..
Churches without masters always get mustered by devils, so the problem here is on the Georgian side."
Kviris Chronika, 19-25 January
Elizbar Javelidze, People's Assembly: "Even during the time of Lasha-Giorgi the Armenians had claims on Georgian churches, Lasha-Giorgi kicked out their chief priest. Do you know what claims Armenians have? That Skadrisi is Armenian historical and cultural monument."
Geworld.ge, 22 January
Jaba Zhvania, author: "The Armenian lobby is preparing the grave for us… The Dashnaks now claim not 5, but 450 Georgian churches, they take from us our historical sacred places and… this is when they say – the masterless church got mastered by devils"...
Kviris Chronika, 19-25 January
Gela Zedelashvili, journalist: "Today they often say that only ethnic Azeris work in Georgia, and now there are also Chinese and Indians. But what do they care for? They work and work on land in our country… They have no idea, how our hearts hurt about this and how we suffer...
When they [EU] come, we'll say proudly that we are dissolving clouds by our ph...us and allow minorities to preserve their harvest from nature".
Geworld.ge, 21 January
Bakur Svaidze, author: "The wish to put theravages of foreign citizens in our country within some legal frame is not xenophobia at all."
Jondi Baghaturia, Georgian Group: "While I understand and support the motive of the Kobuletians, as they see the danger of the activities by the Turkish intelligence services, and educational centers where recruitment happens... Mostly, the recruitment and transportation of the militants to Syria happen through Turkey… But nailing a pig's head, that was unacceptable."
Kviris Chronika, 19-25 January
Nino Samkharadze, journalist: "We do not know who they are [the Turks given Georgian citizenship by President Saakashvili], is there the threat that they will turn out to be terrorists? By the way, the experts saw in that action the danger of Islamic terrorism at once."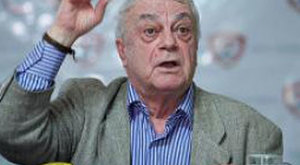 Kviris Chronika, 19-25 January
Nino Samkharadze, journalist: "So, who studied that thousand of Turks who were given Georgian citizenship urgently, and how dangerous was this action by Saakashvili?
Elizbar Javelidze, People's Assembly: "Today there is great Turkish expansion in the country, which had been led by Saakashvili from the very beginning... Go to Adjara, see what is going on there, it has been turned into Turkey… This is a peaceful conquest of territories. Davutoglu said that they won't attack Georgia with weapons, but will take back Adjara through economic means, followed by a referendum "....
Kviris Chronika, 19-25 January
Giorgi Jikiashvili, journalist: "In the last days of his constitutional term [Saakashvili] gave Georgian passports to about 10 thousand foreign Muslims, and turned Adjara, already facing the danger of Turkization, into a Turkish share. Today everyone knows that certain part of these citizens fights under Islamic State in Syria and commits numerous terrorist acts"...
Geworld.ge, 22 January
Jaba Jzvania, Journalist: "The leader of the National sect had been doing everything he could for 9 years to bury the national identity, in the end he gave Georgian passports to the 10 thousand Turkish citizens, and turned Adjara, who already was an object of Islamic expansion, intoa Turkish share."
Alia, 22 January
[a fragment from an article]
Modest Kolerov: "They [Armenians] lived in the Syrian desert and could not even put forcemeat into vine leaves. Because they had neither. They had camel's manure which they gathered, dried and fried.. In the 1970s Armenians destroyed the Sardar palace in order to delete from memory Yerevan's Muslim past… People identify history by the works of literature, which Armenians simply do not have."
Unfounded statements regarding ethnic identity
Saqinform, 19 January
Arno Khidirbegishvili, Saqinform Editor-in-chief: "Malaysian "Boeing 777" over Donetsk was hit by the same kind of missile of Arsen Avakyan's Pravyi Sector that was used by Misha Saakyani to bomb Tskhinvali in the night!"
Levan Vasadze, author: "During the last 30 years, in some regions of the world, more specifically in the Western countries, the propaganda of immorality has become something like an aggressive religion...
Notably, almost always the sodomites want to adopt a boy, while lesbians want a girl. Later, many of these poor children have suicide attempts, and almost all of them have problems with drugs and alcohol, since when they become teenagers, often their "two fathers" or "two mothers" satisfy their sexual wishes with them... While at first they are used to this abomination, that instead of father and mother they have "two fathers" or "two mothers", they discover that in truth they have two cynical immoral beasts."
Obiektivi, Night Studio, 23 January
Rezo Amashukeli, poet: "The TV channels of that uneducated whores and educated pederasts, how can you discuss Rustavi 2, that it is a business… The state and the government must come to their senses and everything must work for their destruction... Georgia will not belong to pederasts until there is at least one Georgian man in Georgia."
Alia, 20 January
Rezo Amashukeli, poet: "...So I am a man, and a pederast is also a man, how does this work?
Geworld.ge, 21 January
Theodore Gignadze, deacon: "But the trouble is that Charlie published not just regular cartoons, these were pornographic cartoons, depicting human private parts and unnatural sexual act..."
Obiektivi, Night Studio, 23 January
Vazha Otarashvili, Patriots' Alliance: "The fact that his [Mamuka Khazaradze] Saba [literature] prize is given to that writers with the pederasty mania and sodomites – is this for Georgia?"
Levan Vasadze, usinessman: "They pass us an issue, for instance the one about domestic violence. For the last 25 years they have been letting a Georgian peasant watch kissing, blood and violence of the Latin American women with silicones, and thenwe are surprised, that the family culture has fallen down."
Kviris Palitra, 24 January
Ether Eradze, journalist: "Only the head of the family, 38-years old Arazakh Medov, was at home, watching TV."
Kviris Palitra, 20 January
Levan Vasadze, author: "...In the West, under the flag of the so called "human rights", there quickly ongoing the total destruction of the institute of family. Along with the offensive of destruction of family and immorality, there is also unprecedented growth of pedophilia...
The hurry and undemocratic nature of the adoption of anti-discrimination law has finalized the dictatorship of the Western liberalism in Georgia...
The West has made the fatal mistake
by proclaiming immorality to be a norm...
Because of liberalism, every year 45 million children in the world are killed in their mothers' wombs. In its basis is the most anti-human religion, which does not tolerate any different opinion, otherwise they sent their army and destroy everything...
By the way, I absolutely agree with the statements of Irakli Garibashvili many of the foreign-financed NGOs are enemies of the country."
Obiektivi, Night Studio, 23 January
Rezo Amashukeli, poet: "The main blame for all of this is the country and the ambassador of the country [US], which encouraged and did everything for this bloody regime not to be punished… They should choose, the West or whatever the hell they are, they must choose between those murdered and the Georgian people… What should Bidzina Ivanishvili or Irakli Garibashvili do? Even a bird cannot fly over without Norland's comments."
Alia, 20 January
Rezo Amashukeli, poet: "While these Americans care about the Nationals, how do they want to turn people to their side?... They say – Western values, what does that mean? That a child must grow without knowing is he a girl or a boy, is this Western values?"
Arno Khidirbegishvili, Saqinform Editor-in-chief: I am a Georgian Caucasian, not a European blasphemer...
It was not a march but a bloody forcemeat of solidarity, since the leaders of the primary Europan countries walked together with the bloody neo-fascist Poroshenko, compared to whom Jack the Ripper is the head of the noble young ladies institute!..
When was it that US was content with peace without dangers?!
Obiektivi, Night Studio, 25 January
Arno Khidirbegishvili, Saqinform Editor-in-chief: "It is not enough for America for Georgia to be pro-American. America needs Georgia to be anti-Russian… Any visa-free regime with the EU or America is a fairy tale… They view Georgia as a country with high probability of the terrorist threat."
Asaval-Dasavali, 19-25 January
Dimitri Chubinidze, journalist: While the West applauses the dirty people who insulted the Holy Trinity and Prophet Muhammad"....
Pirweli, 22 January
Vitaly Churkin, Russian representative in the UN: "Everywhere, where Washington has meddled there is destabilization, bloodshed and crisis [regarding events in Ukraine]".
Asaval-Dasavali, 19-25 January
Elizbar Javelidze, People's Assembly: "No justice exists in Europe and America, everything is decided by money. Today members of the European Peoples Party support Mikheil Saakashvili, don't we know that this support is based on corruption?"
Obiektivi, Night Studio, 24 January
Irma Inashvili, Patriots Alliance: "This way we cannot talk about European integration, how did this European integration help us? Are we protected, did not they kill a man in front of our eyes?"...
Kavkasia, Spektri, 23 January
Lali Moroshkina: "Imagine that we accept and give office in Georgia to a person prosecuted in the US, what will US do to us?!.. So why do we let so much to even a friendly country?!"
Obiektivi, Night Studio, 24 January
TV viewer: "We all know that main decisions are not made in Georgia… What shall we call this, it's like a dark force, they call them the Masons, and they rule, right?"

The newsletter was made possible by generous support of the American people rendered through the USA Agency for International Development (USAID).

The contents of the newsletter are responsibility of the Media Development Foundation (MDF) and do not necessarily reflect the views of the USAID and USA.